The Neskowin Ghost Forest
This time last week I was on my way to Gleneden Beach, Oregon to attend the NSF Seafloor Instrumentation Visioning Workshop. About 19 miles north of the workshop location lies the site of the Neskowin Ghost Forest, a staple in the pages of the Cascadia Subduction Zone story. The ghost forest currently sits on the wave-cut platform of the coast. Ghost forests, or rooted stumps, are not exclusive to Neskowin. The illustration below shows the locations of other rooted stumps studied by Hart & Peterson (1997).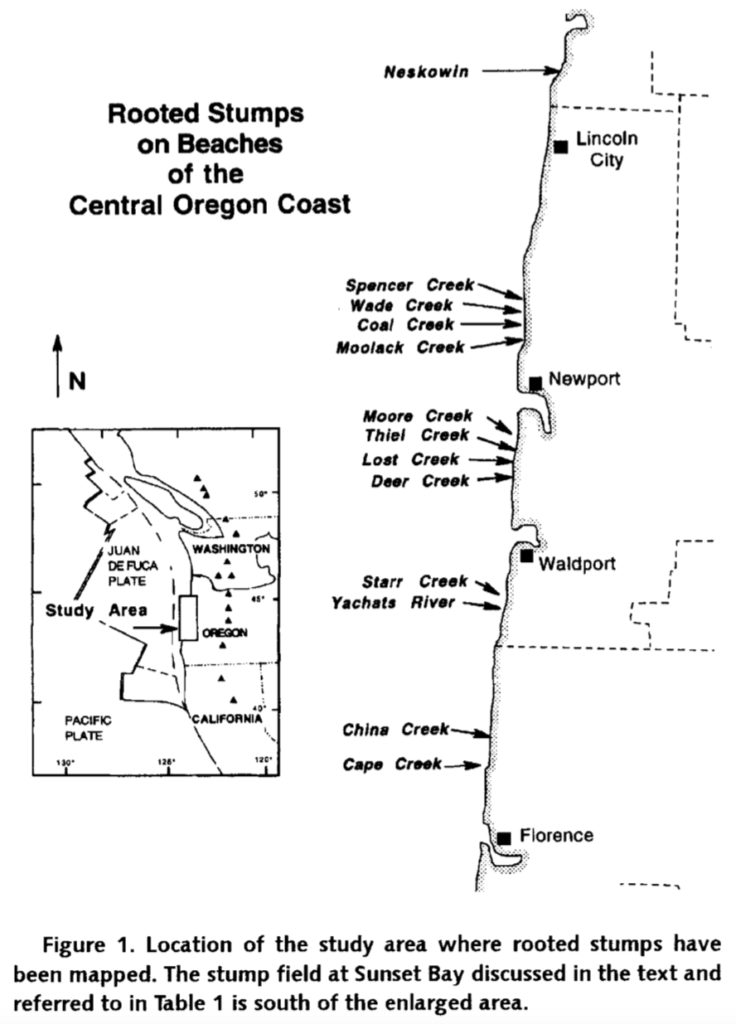 Hart and Peterson (1997) determined the ages of the stumps at Neskowin to be 1,970 ± 50 years old in 1983, via radiocarbon dating. A 30-cm thick layer of organic-rich soil is preserved at the base of the stumps. The accepted scientific explanation for these ghost forests is centered around the vertical displacement of land adjacent to the Cascadia Subduction Zone (eg. the coastal Pacific Northwest). The areas in which the ghost forests exist experience uplift during the interseismic period due to tectonic strain accumulation, allowing forests to expand seaward. During the coseismic period, when a megathrust earthquake occurs, the new area the forest occupies rapidly subsides, recovering some portion of the interseismic strain, causing inundation of the forest by the surf zone, which causes the death of the trees and the generation of ghost forests. IRIS has a nice animation of this process here (with terrible background music). Ghost forests along the coast of the Pacific Northwest are remnants of coastal temperate rain forests that met their demise through the forces of the Cascadia Subduction Zone.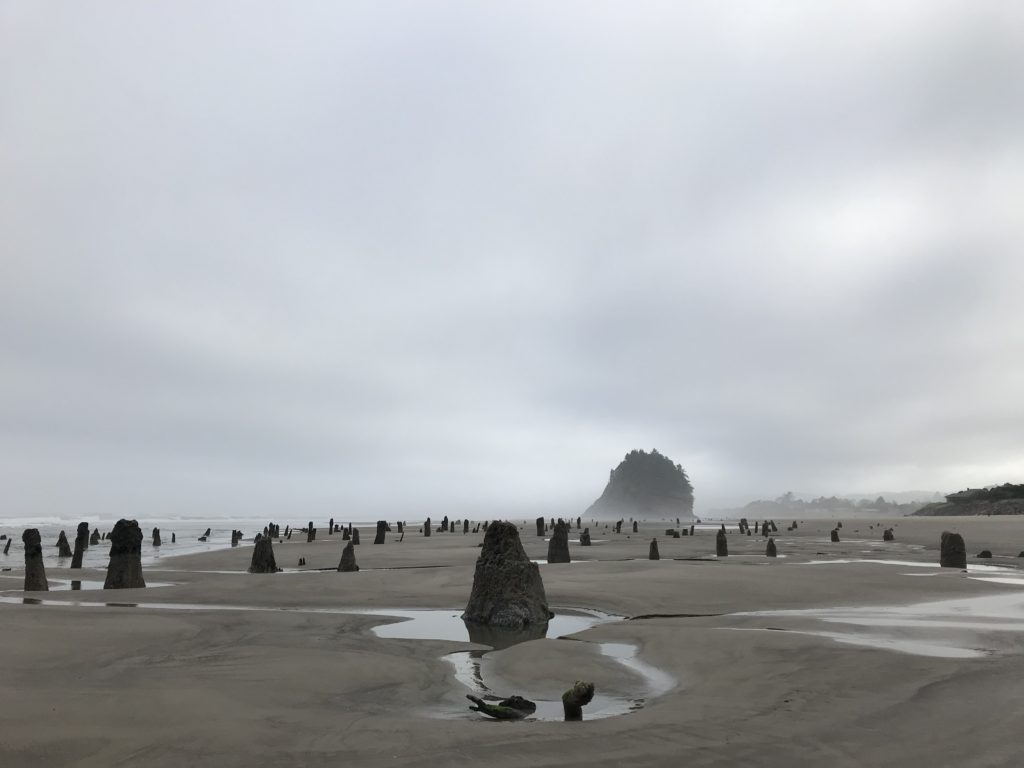 The Neskowin Ghost Forest is located at 45°05'49.3″N, 123°59'16.9″W. If you look carefully at this location on Google Maps, you can see the few remnants of the trees that are visible at high tide. Park at 45°06'11.7″N, 123°58'55.9″W, trek SSW along the beach access trail on the west side of Kiwanda Creek, then cross Neskowin Creek and continue along the beach SSW to the ghost forest. Be sure to check the tides for Neskowin, Oregon before you visit. Aim for a low tide of -2.03 ft for conditions like those pictured here.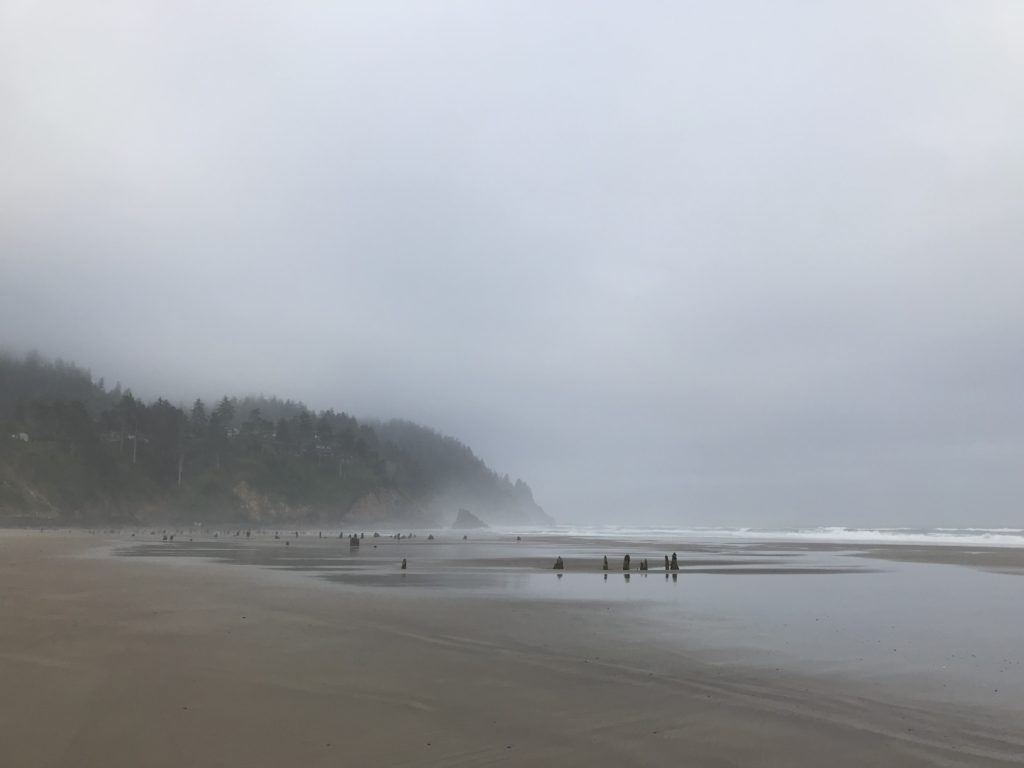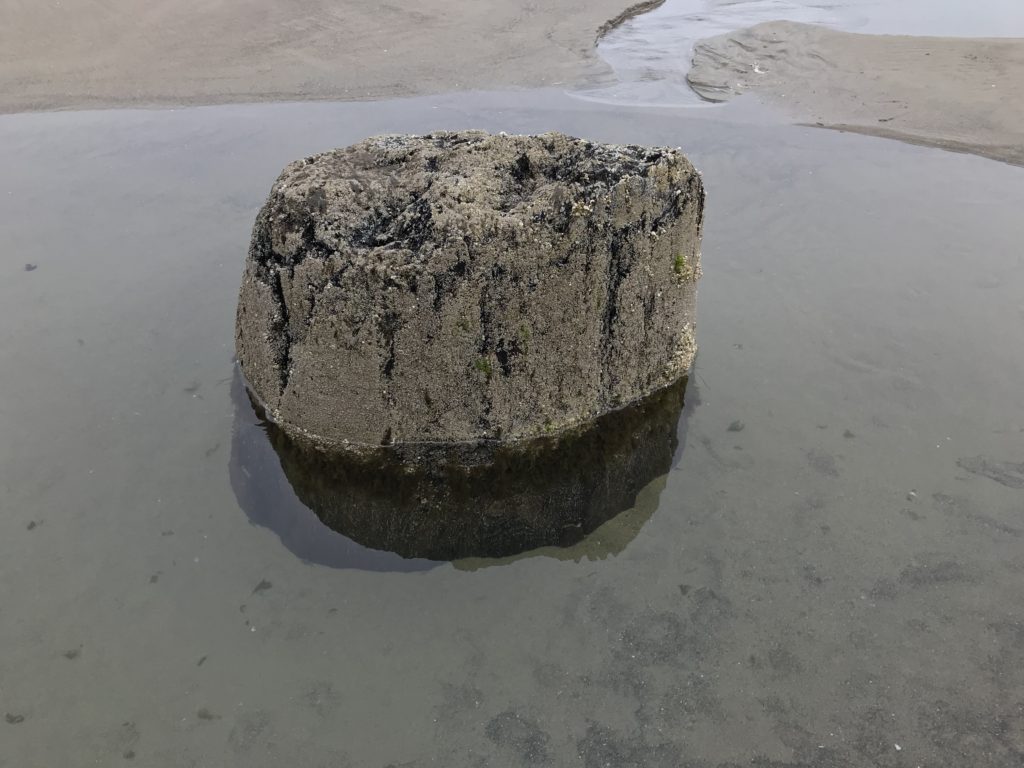 References:
Hart, Roger; Peterson, Curt (1997). "Episodically buried forests in the Oregon surf zone". Oregon Geology. 59 (6): 131–144